The Wordbose Dashboard
Everything you need in one place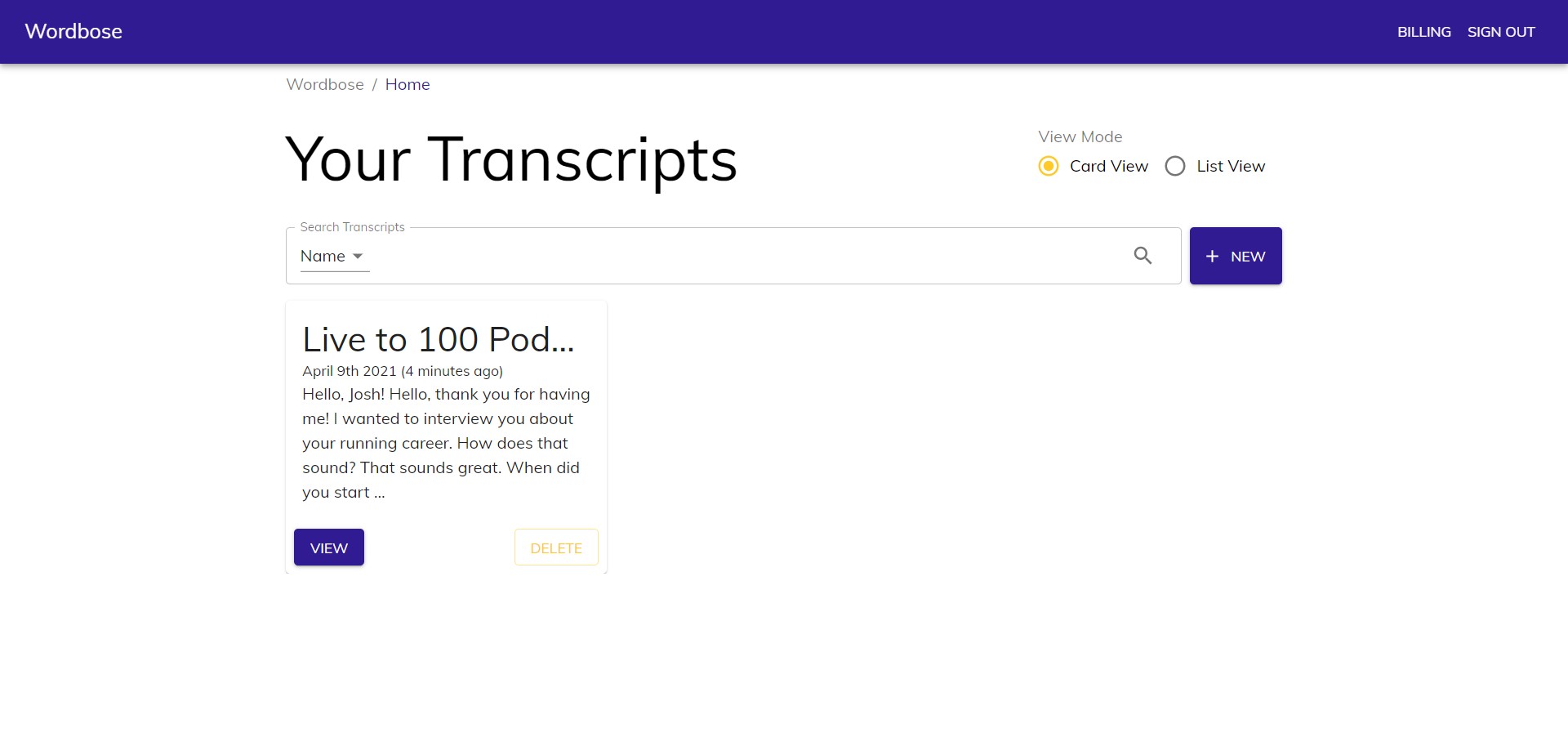 Who is Wordbose for?
3 Use Cases
Podcasters
Transcribe podcasts
Post on website
Searchable transcripts
Better website SEO
Teachers
Transcribe Zoom recordings
Post on class website
Easier review for students
Engage visual and spatial learners
Interviewers
Record and transcribe interviews
Automated notes
Search for key qualifications
Analyze themes and patterns
Pricing That Makes Sense
Pay as you go
$0.10 / min
15+ minutes
(minimum charge $0.50)
No subscriptions
No monthly payments or subscriptions. With Wordbose, you only pay for what you use.
No surprises
No hidden fees, just one simple pricing model.
No paywalls
None of Wordbose's premium-grade features are locked behind a paywall. You get full functionality right from the start.
Transcription Simplified
Use without an account for speed, with one for features
Use as a guest
Upload file
Upload any audio or video file under 15 minutes
Enter email
Enter the email we should send your completed transcript to
Enjoy
You'll recieve an email with your finished transcript complete with speaker labels
Create a new transcript
Name your transcript and upload a file under 4 hours. Pay securely through our PCI-compliant service
Check your email
An email will be sent with a link to your transcript as well as the transcript text
Use Wordbose's features
View, edit, and delete your transcripts in the Wordbose Web App
Why Wordbose?
Premium features, for free
Quick turnaround
Wordbose's AI-powered algorithm returns most transcripts in less time than the length of the file
Email notification
Recieve an email complete with a link to your transcript as well as the full transcript text as soon as your transcript is complete
Dashboard
Get an overview of all your transcripts as cards in a grid or as a table
Editor
Use the Wordbose Editor to make changes to the transcript text or speaker labels, then save your work
Speaker labels
Wordbose detects speaker changes and reflects them in your transcript. When you edit the name of a speaker, all corresponding labels are updated
Search
With the Wordbose Web App you have the power to search all of your transcripts by name or text to find what you're looking for quickly